Saturday, 21 January 2017 12:00 - 15:00
805 Live Oak Drive
Suite 104, Chesapeake, VA, US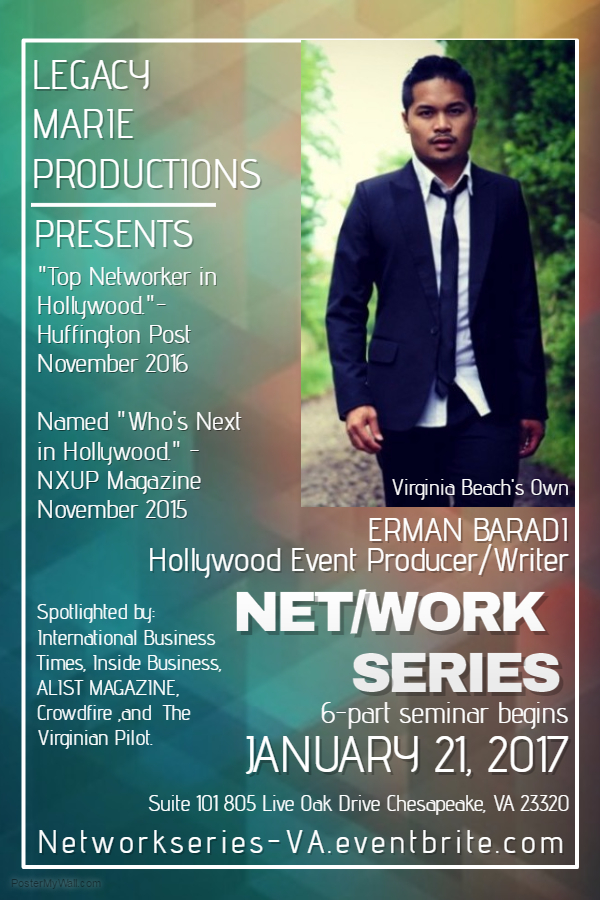 Virginia Beach's own was named "Top Networker in Hollywood" by The Huffington Post, November 2016. Here's how.
Regent University film graduate Erman Baradi went from intern to co-founder of one of Hollywood's fastest rising event series MixKnowledgy, and was recently signed to a boutique literary management company in Los Angeles, all the while residing in Virginia. In 2017, Erman pays it forward to his fellow Virginians with a series of seminars on his personal journey, delivering tips on breaking into the industry on using the resources at your disposal. Each session will conclude with a Skype call Q&A with a Hollywood pro. Only 40 seats per seminar.
Saturday, January 12st, 2017: You Have the Talent, Now What?/Discovering What Sets You Apart
Saturday, February 4th, 2017: Growing Your Industry Network...Without Looking Like a Needy Newbie
Saturday, February 18th, 2017: Turning Your Network into Jobs (errr, Networth)
Saturday, March 4th, 2017: Using the Resources Around You: Elevate Your Career for Cheap
Saturday, March 18th, 2017: Launching Your Own Entertainment Company - and Look Good Doing It
Saturday, April 1st, 2017: You Have the Network, Now What?
Saturday, April 22nd: eleVAte II Hollywood conference at Granby Theater!
Erman was also featured in ALIST Magazine, highlighting Asian American successes; named "Who's Next in Hollywood" by NXUP Magazine in 2015; featured by the Crowdfire app as "social media success," and spotlighted by the International Business Times, Inside Business, and The Virginian Pilot in 2016.
Erman's former lineups in LA, NYC, Chicago, and Virgina have included the likes of Lauren Shuler Donner (producer, Deadpool, X-Men: Apocalypse), April Webster and Tommy Harper (casting director and executive producer of Star Wars: The Force Awakens, respectively), Angela Kang (executive producer, writer, The Walking Dead), Gail Barringer (producer, Luke Cage), Carlos Villalobos (music producer, Empire), Ta'Rhonda Jones (actress, Empire), Rachel Polan (Lionsgate TV), Mandy Teefey (executive producer, Thirteen Reasons Why), Claire Simon (casting director, Empire, Chicago Fire), Rachael Wesolowski (publicist to Bryan Cranston, Alison Brie, Thomas Middleditch), Alex Ott (co-producer, Suicide Squad), James Foley (director, House of Cards, Fifty Shades Darker), Byron Wetzel (manager, Michael Shannon), Alexander Dinelaris (Academy Award winning writer, Birdman), Doug Jung (writer, Star Trek Beyond), Stephany Folsom (writer, Thor: Ragnarok), Joshua Allen (story editor, Empire), Thomas Dean Donnelly (writer, Doctor Strange), Alan Wenkus (Academy Award nominated writer and executive producer, Straight Outta Compton), Gary Pearl (executive producer, Jane the Virgin), Mac Quayle (composer, Mr. Robot, American Horror Story), Lewaa Nasserdeen (writer, The Goldbergs, The Real O'Neals), Kerry Barden (casting director, Spotlight, Jessica Jones), Marci Liroff (casting director, E.T., Indiana Jones, Poltergeist), Carol Bodie (manager, Ruby Rose), Miles Cooley (entertainment lawyer, Rihanna), Gohar Gazazyan (casting director, The Walking Dead, Gotham), CAA agent Rick Lucas (Neil Patrick Harris, Dave Franco, Jason Statham), Jackie Sollitto (casting associate, The Flash, Arrow, Supergirl), commercial agent Liz Dalling (Chris Hemsworth, Henry Cavill), Jazmyn Simon (actress, Ballers), Megan Brophy (publicist, Selena Williams, Ellen Page, Elijah Wood), Stephen Rider (actor, Daredevil season 2), Jeffrey Bernstein (clients include Norman Reedus, Blake Lively, Samuel L. Jackson, Margot Robbie, Kit Harington, Judi Dench), talent manager Ashley Josephson (clients include Tessa Thompson, Vanessa Lachey, Kate Mara) of Mosaic, manager Jason Barrett (Zac Efron, LL Cool J), actor Dale Godboldo (The People vs. O.J. Simpson: American Crime Story), Sheri Elwood (writer, Lucifer), Simon Hatt (co-producer, Guardians of the Galaxy Vol. 2), Markus Bensch (production executive, The Hunger Games, Captain America: Civil War), several castmembers of Orange is the New Black, and more.
---
Metadata (will be hidden)
EventID = 30569240421
OrganizerID = 11374916922
VenueID = 17773803