Saturday, 12 March 2016 18:00 - 21:00
La Maison d'Art
259 West 132nd Street, New York, NY, US
NETWORK. DISCUSS. LEARN. EMPOWER.

Let's get together for a special evening of NETWORKING, EMPOWERMENT AND FUN! Join the PANEL DISCUSSION on Business, Passion & Purpose, and Advocacy!

Our wonderful panelists include women making waves in the realm of media, business, and wellness:


- TASTY KEISH, Broadcaster & Founder of TK in the AM/Bondfire Radio

- HIPATIA LOPEZ, Inventor & Owner of Empanada Fork

- MADELINE McCRAY, Actress & Co-Founder of New Legacy Leaders

They are ready to share their knowledge and experiences with you! Join the conversation with us on Sat, March 12th for the 4th Annual Women Empowerment Event!
This event is for anyone ready to start conversations, network, and share ideas and stories about how empowerment can motivate and ignite positive change in women, individually and collectively, to continue to strengthen our mark and significance in society. Men and youth over 12 years old are highly encouraged and welcome to attend.
Tickets are $35.00 and include hors d'oeuvres, drinks, and dessert. Each guest will also receive a gift bag. Space is limited and pre-registration is required. Secure your spot today!
No fee tickets available for purchase directly from www.mldigitalart.com

Our Panelists Include:
Tasty Keish, Broadcaster & Founder of TK in the AM/Bondfire Radio http://bondfireradio.com/

Hipatia Lopez, Inventor & Owner of Empanada Fork http://www.empanadafork.com/

Madeline McCray, Actress & Co-Founder of New Legacy Leaders http://newlegacyleaders.com/

Performances by Daromie Despinosse & Madeline McCray
Follow the conversation on Twitter using hashtag #womenempowerment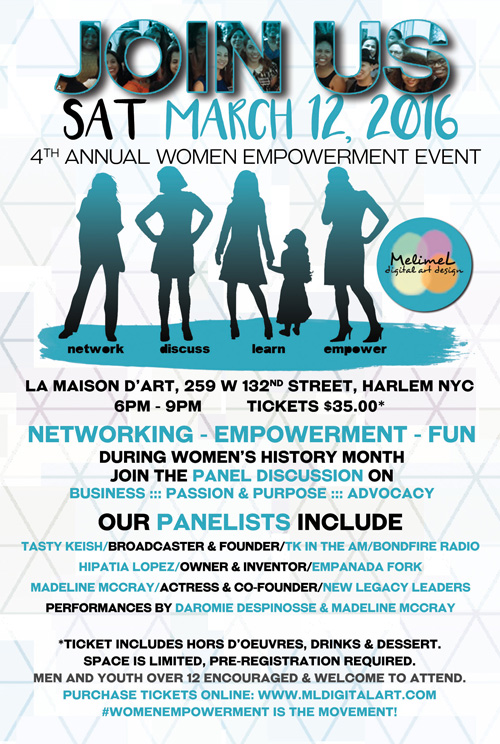 ---
Metadata (will be hidden)
EventID = 19695640190
OrganizerID = 3195724570
VenueID = 12118392